Below are some of the most frequently asked questions:
Q: How do I know when my Scheduled Delivery day is?
A: Check the scheduled day for your location by entering your postcode in the red bar at the top of any page or click here delivery calculator. On the Delivery Info page there is a map showing our delivery catchment area. If you live outside this area, or still need assistance, call our office on 01608 653200.
Q: I live outside your 20 mile radius, can you still deliver to me?
A: Of course. This does attract a small extra cost. To get an accurate quote or arrange a delivery, please call us on 01608 653200.
Q: I want my logs stacking, but it is a long way from the road. Is this a problem?
A: No. We will stack your logs (when delivery takes place within our 20 mile radius) wherever you would like them, providing the area is accessible and clear of other items. Nothing is too much trouble.
Q: Do you offer different length logs?
A: Yes, we always hold a good stock of both 9" and 12" logs.
Q: Can I choose the thickness of my logs?
A: No, although log thickness can vary from load to load. This determined by the size of the trees that the logs have been cut from. Small trees will tend to be cut into 'rounds' and larger trees into 'splits'. We are unable to predict or control this variation and you are likely to receive both rounds and splits in your load, but both burn equally as well.
Q: Do you deliver on a Saturday?
A: No, unfortunately we do not. Either collect from our warehouse, or book a Priority Delivery for Friday.
Q: I have a very narrow drive, will your lorry be able to fit?
A: Our fleet consists of Mercedes Sprinter vans. It is rare that we have any accessability problems, but if you think there will be a problem, please let us know at the time of ordering.
Q: If I book a scheduled delivery, is there any way to know what time it will be delivered?
A: Our drivers do not finalise their routes until the morning of delivery. We are able to call customers before delivery (please specify at time of ordering). The other option is to book a Priority Delivery.
Q: How does your load size compare to other suppliers?
A: We sell Double Loads, and Full Loads. To compare to what others sell is very difficult. Some people measure in bag size, stack size, volume, weight etc.. We estimate the number of logs in the load (this will always vary due to different sized logs) and use that as our comparison.
Q: If I book a scheduled delivery, when will my order arrive (this week or the following week)?
A: You can book a scheduled delivery up until 2pm the day before. For example, if you order logs on Monday 1st January before 2pm (and your scheduled day is Tuesday), they will be delivered on Tuesday 2nd January. If you order logs on Wednesday 3rd January, (again assuming your delivery day is Tuesday), they will be delivered on Tuesday 9th January. If you order over the weekend, and your scheduled day is Monday your logs will be delivered the following Monday.
Q: Can I arrange a regular delivery of logs (such as every week)?
A: Yes. Call our office on 01608 653200, and we will happily set up a regular delivery for you.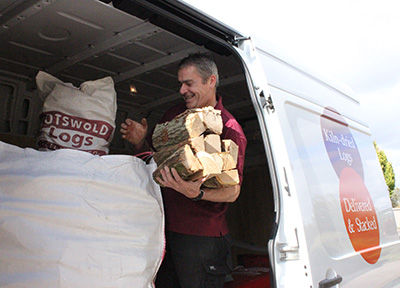 Stacking made easy